When it comes to these two electric vehicles (EVs), their comparable pricing and range on paper prompt us to determine the superior option.
The MG Comet stands as India's most affordable electric hatchback, priced between Rs 7.98 lakh and Rs 9.98 lakh, equipped with a 17.3kWh battery. We've thoroughly examined this unique two-door, four-seater EV through comprehensive tests to assess its real-world performance. To provide context, we're contrasting it with the similarly priced Tata Tiago EV.
Tata's electric hatchback boasts a broader range, with two variants available – the MR version equipped with a 19.2kWh battery priced between Rs 8.69 lakh and Rs 9.29 lakh, and the LR version featuring a 24kWh battery priced between Rs 10.24 lakh and Rs 11.54 lakh.
Design Comparison: MG Comet vs Tata Tiago EV
Derived from a dedicated electric platform, the MG Comet showcases an unconventional monovolume, cube-like silhouette infused with character. Its distinctive styling, chrome accents, and striking LED light bars (front and rear) make a lasting impression. Remarkably, it holds the title of India's smallest passenger vehicle in terms of length. For context, it's worth noting that the MG Comet is 795mm shorter in length, 172mm narrower in width, and features a wheelbase that is 390mm shorter than that of the Tata Tiago EV. With its tall design, it gains an extra 104mm in height.
The Tiago EV features a conventional two-box design, which although handsome, appears outdated when juxtaposed with the avant-garde MG.
Interior Comparison: MG Comet vs Tata Tiago EV
The Comet's interior exudes a futuristic, minimalist, and inviting vibe. The white color scheme and expansive glass area contribute to the sense of spaciousness, while the dual screens add a touch of sophistication. The overall cabin construction is particularly impressive, featuring high-quality components in key areas.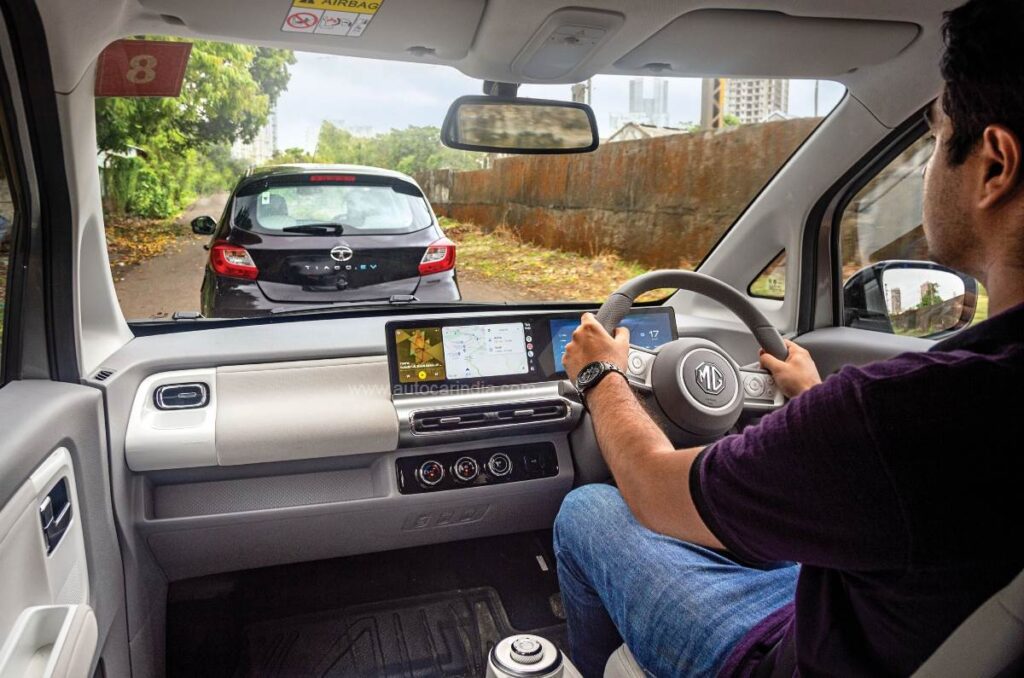 Surprisingly, the Comet offers remarkable space despite its compact footprint. However, comfort is slightly compromised – the front seats have limited adjustments, and the short seat cushions lack support. The rear bench accommodates two adults comfortably, providing ample knee and headroom. Although the seats are low-set, the tall windows create an open ambiance.
The Tiago EV's interiors are solidly built and convey a sense of quality. Yet, compared to the MG, its cabin feels less inspiring due to its smaller digital speedometer and 7-inch touchscreen. The Tiago's seats, on the other hand, are more comfortable. Rear seat passengers benefit from dedicated doors. The Tata offers similar knee room to the Comet, but seating three adults abreast could be a tight squeeze.
In terms of practicality, the Tiago EV triumphs with better-designed storage solutions and a more spacious 240-liter boot. Interestingly, neither car includes a spare tire; both come equipped with a puncture repair kit.
Feature Comparison: MG Comet vs Tata Tiago EV
The standout feature of the MG Comet is its 10.25-inch dual-screen setup – one for the instrument cluster and another for infotainment. While the latter boasts connected car technology and wireless Android Auto and Apple CarPlay, the sound quality from its two speakers leaves something to be desired. The Comet's LED light bars and headlamps are notable features, along with the inclusion of hill-hold functionality.
However, the Comet misses out on auto headlamps, automatic climate control, leatherette upholstery, cruise control, rear wiper and washer, electric folding mirrors, and an impressive 8-speaker Harman audio system that the Tiago EV offers. Additionally, the Tiago EV supports DC fast charging, which the MG lacks. Despite the Tata's higher price, the added features easily justify the premium.
| Checklist | MG Comet Plush | Tata Tiago EV Xz+ Tech Lux |
| --- | --- | --- |
| LED headlamps | Yes | NA |
| Auto headlamps | NA | Yes |
| Alloys | NA | NA |
| Touchscreen | 10.25 inch | 7 inch |
| Android Auto / Apple carPlay | Wireless | Wired |
| Number of speakers | 2 | 8 |
| Leatherette seats | NA | Yes |
| Cruise control | NA | Yes |
| Drive modes | Yes | Yes |
| Electric folding mirrors | NA | Yes |
| Rear wipe and washer | NA | Yes |
| Auto climate control | NA | Yes |
| Hill-hold assist | Yes | NA |
| ESP | NA | NA |
Performance Comparison: MG Comet vs Tata Tiago EV
Thanks to its compact size, upright driving position, and excellent maneuverability with a turning radius of just 4.2m, the MG Comet excels in urban settings. It handles city traffic well in Eco, Normal, and Sports driving modes. Its 42hp/110Nm motor delivers adequate performance within city limits, but more demanding situations might leave you desiring extra power.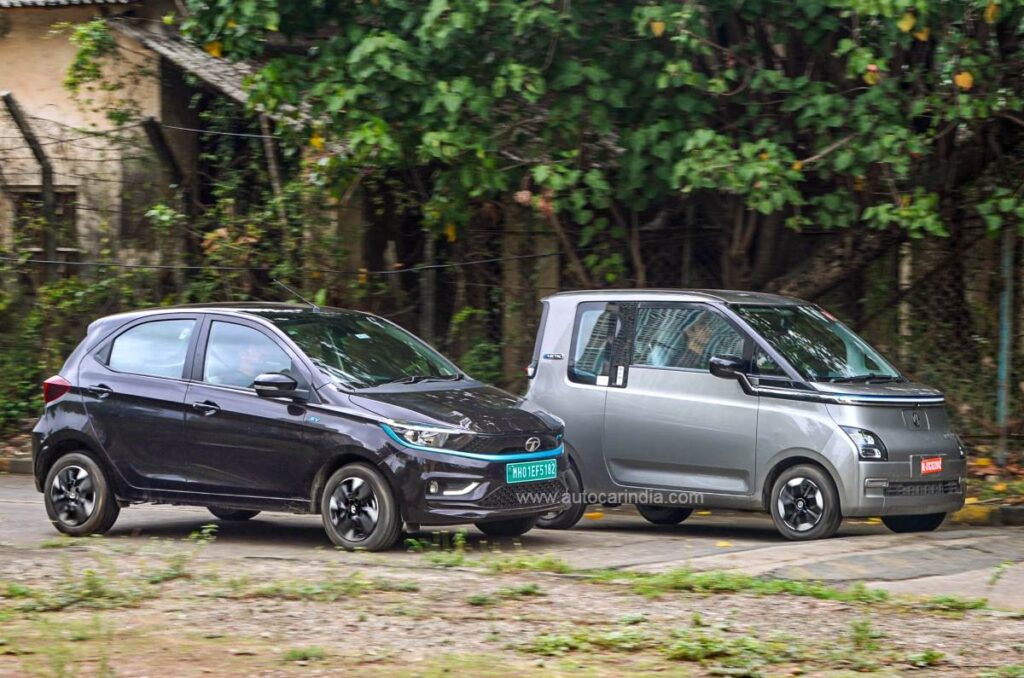 In contrast, the Tata Tiago EV's 74hp motor provides a more responsive and zippier performance. The Tiago offers City and Sport drive modes, with the latter unleashing the motor's full potential. The Tiago EV surpasses the Comet in acceleration, reaching 0-100kph faster and achieving a higher top speed.
Both vehicles offer regenerative braking, with the Tiago EV giving users the option to disable regen for freer rolling.
Range and Charging Comparison: MG Comet vs Tata Tiago EV
In range tests, the lightweight MG Comet outperforms the heavier Tiago EV in efficiency, boasting an impressive 11.17km/kWh compared to the Tata's 7.77km/kWh. Consequently, the Comet's 17.3kWh battery can cover 193km on a full charge, while the Tiago's 24kWh battery manages 187km. Notably, these figures might decrease in other driving modes.
Charging speeds vary, with the MG Comet taking over 3 hours to charge from 20-80% using AC charging methods, while the Tata Tiago EV, with DC fast charging support, can achieve the same level of charge within an hour at a public fast charger.
Verdict: MG Comet vs Tata Tiago EV
The MG Comet's distinct charm and character make it a refreshing choice in a market dominated by conventional options. Its well-constructed interior, surprising spaciousness, and respectable range are commendable.
However, for a similar price, the Tata Tiago EV offers superior overall value – better driving dynamics, enhanced equipment, and enhanced practicality. The Tiago's rear doors, larger and more usable boot, and DC fast charging support make it a more compelling choice.
Taking all aspects into account, the Tata Tiago EV emerges as the preferable option due to its comprehensive attributes and practicality. Nonetheless, as a secondary urban vehicle, the unique and stylish MG Comet remains a contender worth considering.