The fervor surrounding the upcoming season of the immensely popular reality show, Bigg Boss 17, is reaching unprecedented heights. Set to premiere on October 15 on Colors TV, this season, hosted by the charismatic Bollywood superstar Salman Khan, has stirred immense anticipation among its colossal fanbase. The channel's strategic release of promos, subtly hinting at the identities of the contestants, has only added fuel to this excitement.
Teasing Viewers' Curiosity
These intriguing promos, meticulously crafted to captivate the audience, feature various individuals grooving to chart-topping tunes. In one teaser, a couple showcases their dance moves to a song from Netflix India's thriller 'Mission Majnu'. Speculation is rife that this duo is none other than the famed celebrity pair, Ankita Lokhande and Vicky Jain. Another teaser presents a woman in traditional attire, gracefully dancing to a track from the 2021 film 'Mimi', purportedly actress Isha Malviya. Yet another promo showcases a woman draped in a resplendent red sari, swaying to the rhythm of a song from the 2021 Telugu blockbuster 'Pushpa: The Rise – Part 1', believed to be the talented actress Mannara Chopra. Lastly, a teaser featuring a male contestant donning a vibrant jacket has ignited rumors that this contestant might be the renowned actor Abhishek Kumar.
Red More: South Indian Star Namratha Gowda Hot Photos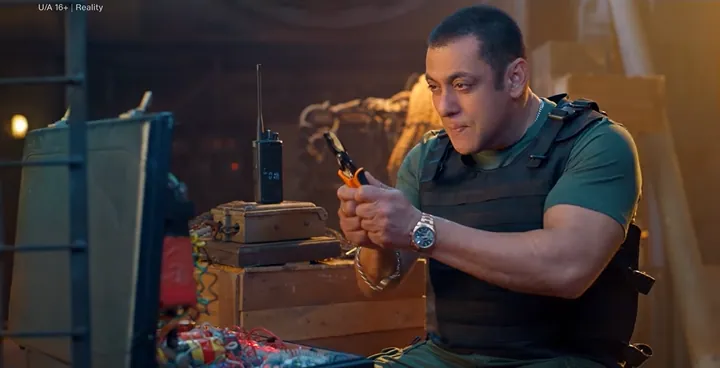 Credit- Instagram
Bigg Boss 17: A Blend of Singles and Couples
Anticipation soars higher as Bigg Boss 17 promises an engaging mix of both single contestants and couples, injecting a fresh layer of intrigue into the show. The final revelation of these contestants' identities is being reserved for the grand premiere, ensuring that suspense lingers until the eleventh hour. Fans are brimming with excitement, eagerly awaiting the unveiling of the final roster of contestants.
Red More: Anjali Arora More Hot and S*xy Pics
Broadcasting Schedule: When and Where to Tune In
Mark your calendars! Bigg Boss 17 will grace the screens of Colors TV and Jio Cinema. Episodes will be aired from Monday to Friday at 10 pm, with weekend specials on Saturday and Sunday at 9 pm. With the countdown to October 15 underway, the thrill intensifies. Enthusiasts are eagerly anticipating the opportunity to witness their beloved celebrities in a brand new avatar, against the vibrant backdrop of the Bigg Boss house. As the excitement continues to escalate, the stage is set for yet another unforgettable season of Bigg Boss.
---
---
MMS Video
Hot Gallery
Related News
Movies