Lakme Fashion Week 2023: Diana Penty's Fashion Extravaganza
In the glamorous realm of fashion, where style meets sophistication, Lakme Fashion Week stands tall as a beacon of creativity and innovation. This year, the spotlight was captured by the dazzling Diana Penty, whose grace and elegance are matched only by her flair for experimentation. At Lakme Fashion Week 2023, Diana graced the runway in a lehenga ensemble that redefined traditional fashion. Let's unravel the magic behind Diana Penty's striking look, a fusion of tradition, modernity, comfort, and convenience.
The Rooh Collection
Diana's ensemble was a creation from the coveted Rooh collection by Paulmi & Harsh. The black lehenga skirt, adorned with intricate golden floral embroidery, was a testament to traditional craftsmanship. What set this ensemble apart was the ingenious addition of pockets on both sides, seamlessly blending style with convenience. In the fast-paced world of fashion, where functionality meets aesthetics, these pockets represented a groundbreaking shift towards practicality without compromising on elegance.
Red More: Anjali Arora More Hot and S*xy Pics
The Off-Shoulder Ivory Blouse
Complementing the lehenga was an off-shoulder ivory blouse that radiated sophistication. The full-sleeved pattern, coupled with exquisite embroidery, showcased the meticulous attention to detail. The deep neckline and cropped length added a touch of modernity, accentuating Diana's enviable physique. By choosing to ditch the traditional dupatta, Diana embraced a trend that signifies freedom and comfort without compromising on style.
Hot Gallery
The Statement Necklaces: Making a Bold Statement
When it came to accessories, Diana didn't hold back. She adorned herself with not one or two but three statement necklaces that added a touch of opulence to her ensemble. These necklaces were more than just accessories; they were bold statements, reflecting Diana's confidence and style. In a world where subtlety often takes the lead, Diana's choice to go big highlighted her fearless approach to fashion.
Red More: Bigg Boss 13: Himanshi Khurana Reveals Startling Allegations Against Salman Khan
The Glamorous Finishing Touches
Diana's look was completed with a chic messy bun hairdo, striking a perfect balance between casual elegance and glamour. Her glam team worked their magic, enhancing her features with glossy pink lips, rosy cheeks, kohl-rimmed eyes, mascara-coated lashes, and perfectly arched eyebrows. Every element of her makeup was carefully curated to complement her ensemble, enhancing her natural beauty without overpowering her overall look.
Diana Penty: A Trailblazer in Fashion
This isn't the first time Diana Penty has graced Lakme Fashion Week with her presence. In a previous LFW appearance, she stunned the audience in a sensational silver lehenga crafted by Disha Patil. The flared skirt, paired with a bralette-style blouse, was a visual delight. An elegant ivory floor-length veil added the finishing touch to her absolutely stunning ensemble, reaffirming her status as a trailblazer in the fashion industry.
Red More: South Indian Star Namratha Gowda Hot Photos
Conclusion: Embracing Tradition, Defining Modernity
Diana Penty's lehenga ensemble at Lakme Fashion Week 2023 was more than just a fashion statement; it was a celebration of tradition, a definition of modernity, and a testament to the evolving landscape of Indian fashion. Her ability to seamlessly blend traditional roots with contemporary trends, all while embracing comfort and convenience, sets her apart as a true icon in the fashion world.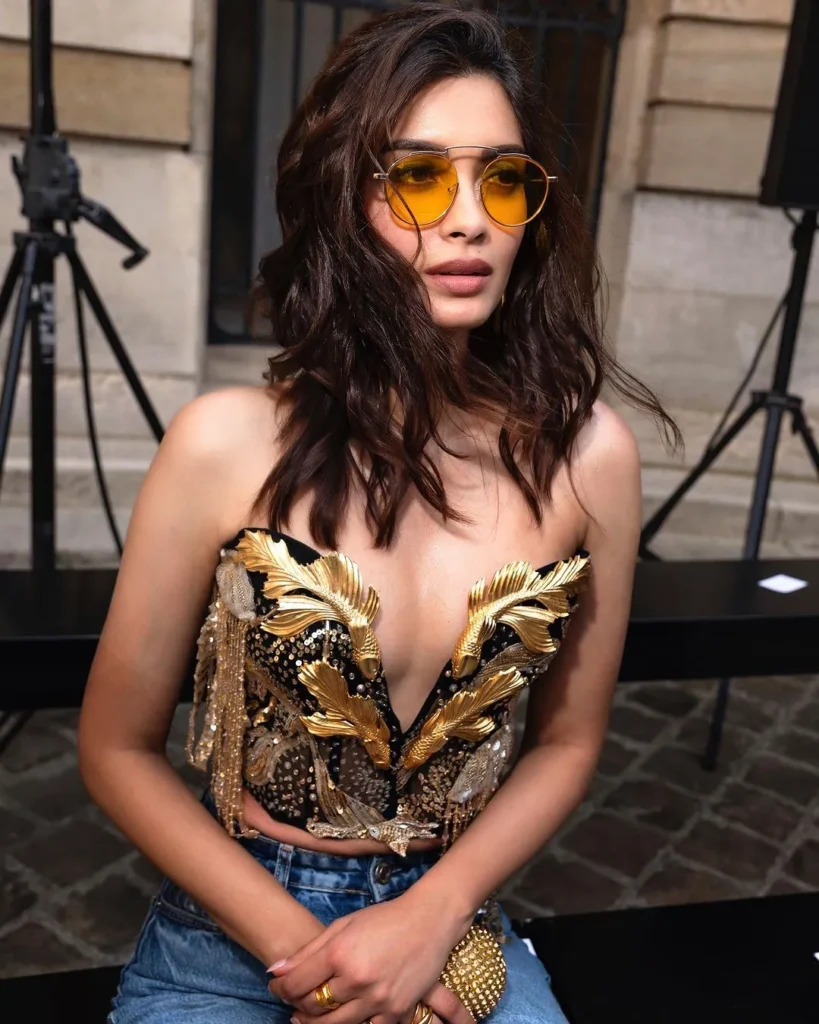 Credit-Instagram
As fashion enthusiasts, we are not just witnessing the evolution of style but actively participating in it. Diana Penty's choice to wear a dupatta-free lehenga with pockets not only redefines fashion norms but also empowers individuals to embrace practicality without sacrificing elegance. Her bold choices echo a sentiment: fashion is not just about what you wear; it's about how you wear it and the confidence with which you carry yourself.
Red More: You might not have seen this extremely bold avatar of Disha Patani before.
In a world where fashion is often perceived as a mere reflection of trends, Diana Penty stands tall as a beacon of individuality and self-expression. Her style is not confined to runways; it's a statement, a story, and an inspiration. As we celebrate this iconic moment at Lakme Fashion Week 2023, let's embrace the spirit of Diana Penty's fashion revolution and redefine our own style narratives.
---
---
MMS Video
---
Latest Bigg Boss News
Related News
Movies