Ultraviolette F77 Launch Date in India
The Ultraviolette F77 has been launched on 24 November 2022, the pre-production version of which was shown at an event in 2019. A removable battery was used in its prototype, but a non-removable battery has been used in the launched UV f77, due to which more space has been available to pack a bigger and more powerful battery. Due to this, its range has increased by 30-40%.
Ultraviolette F77 Specifications
| General | |
| --- | --- |
| Company | Ultraviolette |
| Fuel Type | Electric |
| Infotainment | 5 Inch Touchscreen Display |
| Motor Type | Permanent Magnet AC Motor |
| Motor Power | 30.2 Kw |
| IDC Certified Range | 307 |
| Top Speed | 152 kmph |
| Max Torque | 100Nm |
| Riding Mode | Glide, Combat, Ballistic, Park Assist |
| Fast Charging Support | Yes |
| 0-40 Kmph Acceleration | 2.9sec |
| 0-100 Kmph Acceleration | 7.8sec |
| Battery Pack | SRB10 |
| Battery Capacity | 10.3 kWh |
| Battery safety | IP67 (Water & Dust Resistance) |
| Rear Disk Break | Yes |
| ABS | Yes |
| Front Disk Break | Yes |
Ultraviolette F77 specifications
Ultraviolette F77 Battery Capacity
The battery capacity of Ultraviolette F77 is 8.3 kWh which comes with SRB10 battery pack. This patented 5 level protection system is equipped with mechanical, thermal, electrical, electronic and software protection as well as BMS (Battery Management System). This is much bigger than any two wheeler battery pack ever. It has an all-aluminum IP67 rating for protection against water and dust.
The F77 Battery Charger and Time
The UV F77 supports standard charger, boost charger and fast charger. The standard charger gives a range of 35 km on a 1-hour charge and the boost charger gives a range of 75 km on a 1-hour charge. The standard charger and boost charger are designed to charge through a standard 15 amp home socket.
Ultraviolette F77 Variant
There are three variants of this electric bike available F77 Original, F77 Recon, and F77 Limited. In terms of design looks, all the three variants are similar. Battery capacity, mileage, charging options and battery warranty make all three different from each other.
UV F77 Performance
Ultraviolette F77 Top Speed
The top speed of Ultraviolette F77 is 152 kmph. This electric sport bike is equipped with powerful permanent magnet AC motor. Which catches the speed of 0 to 60 km in 2.9 seconds and the speed of 0 to 100 km in 7.8 seconds.
UV Motor and Power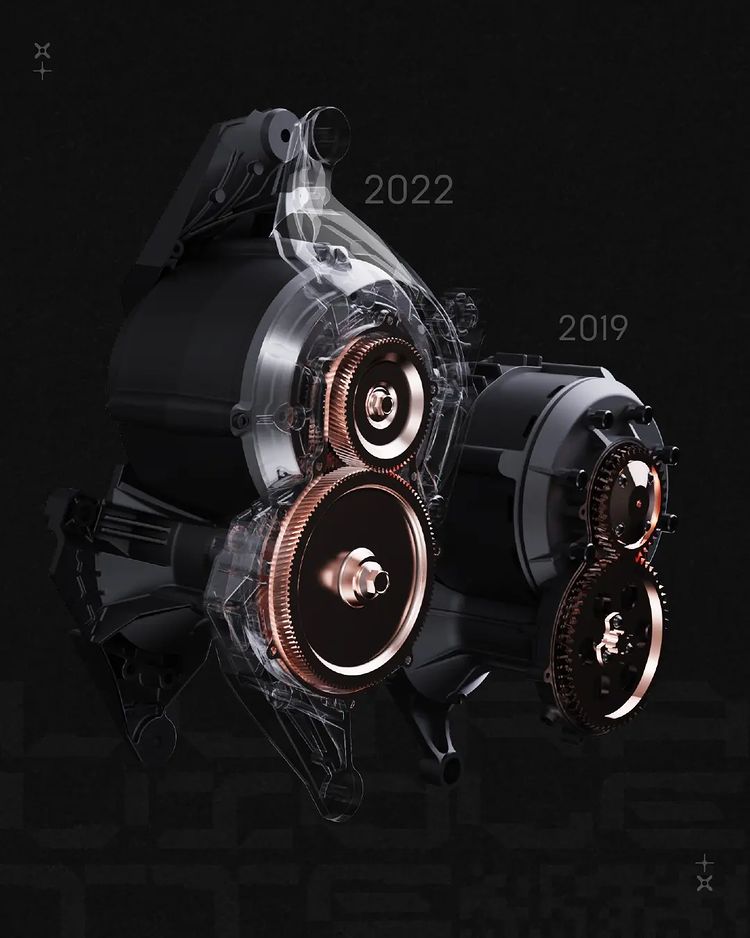 Equipped with a permanent magnet AC motor, the F77 produces 30.2 kW (40.5 hp) of max power and 100 Nm of max torque. Which helps it achieve a top speed of 152 kmph.
Ultraviolette F77 Mileage
The e-bike comes with four riding modes Glide, Combat, Ballistic and Park Assist (forward reverse with regulated speed). The Ultraviolette F77 delivers a maximum IDC certified mileage of 307 km. As you know, there are three variants of this electric bike available in the market and all three variants have different IDC certified range.
| UV Variant | Mileage |
| --- | --- |
| F77 Original | 206 km |
| F77 Recon | 307 km |
| F77 Limited | 307 km |
Ultraviolette F77 Mileage
UV F77 Real World Mileage
Here's a real world mileage and energy consumption per kilometer of the top model of the Ultraviolette F77 in all three riding modes.
| Mileage in Different Riding Mode | Energy Consumption | Mileage (km/charge) |
| --- | --- | --- |
| Range (IDC certified) | | 307 km |
| Range Glide | Avg. 40 Wh/km | 261 km |
| Range Combat | Avg. 52 Wh/km | 200 km |
| Range Ballistic | Avg. 60 Wh/km | 171 km |
UV F77 Real World Mileage
Ultraviolette Color
The F77 Original and F77 Recon come in three colors – Supersonic Silver, Stealth Grey and Plasma Red, while its top model F77 Limited Edition comes in only one color – Meteor Grey + Afterburner Yellow.
Ultraviolette F77 Warranty
The company is offering a warranty of 3 years/30,000 kms on all variants of the F77 vehicle and 3 years/30,000 kms on the base model battery, 5 years/50000 kms on the Recon model battery and 8 years/100000 kms on the limited edition battery.
Ultraviolette F77 price in India
The Ultraviolette F77 price in India ranges from Rs 3.8 lakh to Rs 5.5 lakh.
| UV F77 Variant | Price (Ex-showroom) |
| --- | --- |
| F77 Original | Rs 3.8 lakh |
| F77 Recon | Rs 4.55 lakh |
| F77 Limited | Rs 5.5 lakh |
Ultraviolete F77 price in India
Ultraviolette Booking
Bookings for Ultraviolette F77 will start from 28 October 2022, it will be launched in Bengaluru in the first phase and other parts of India in the second phase and in the third phase it will be launched worldwide.
UV F77 Tech Features
Display
Ultraviolette F77 comes with multifunctions 5 inch TFT display instrument cluster which runs on UV Automotive Linux OS operating system.
Connectivity
The UV F77 supports LTE 4G connectivity with integrated eSIM as well as connectivity features like WLAN, Bluetooth, GPS/GLONASS.
Smart Features
The UV F77 is equipped with several smart features such as Ambient Light Sensor (ALS) with Adaptive Dashboard Brightness, GNSS Enabled Real-Time Position and Velocity Discovery. Along with this, the bike's ride history, vehicle locator, maps with real-time traffic information (powered by MapMyIndia) can be monitored from the dashboard of the F77.
Apart from this, important information related to the health of bike such as temperature, voltage, current sensors with active tracking and efficiency mapping can be tracked.
The UV F77 is equipped with Sensor Fusion technology Shock and Impact sensor for Fall and Crash Detection technology that can be monitored through the Ultraviolette smartphone app.
Ultraviolette F77 Safety Features
Ultraviolette F77 comes with several advanced security features such as side stand sensor, theft alert, geofencing, lockdown mode, emergency contact alert, fall and crash sensor.
Ultraviolette F77 Mechanical Specifications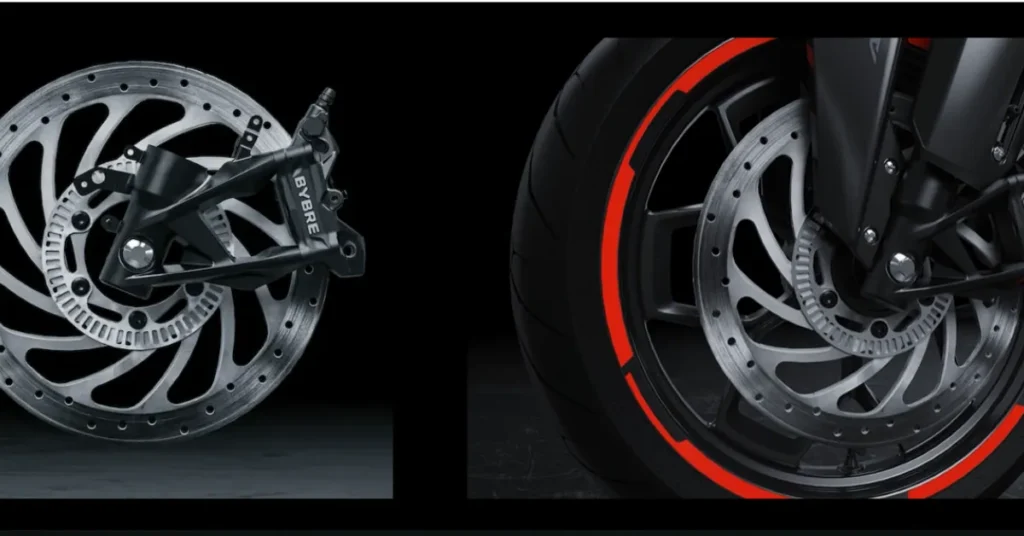 Front Suspension
Upside-down Telescopic fork with a
diameter of 41 mm.
Rear Suspension
Monoshock – preload adjustable
Brake System
Hydraulic disc brakes with dual-channel BOSCH ABS
Brake Rotor
Front: 320mm disc Rear: 230mm disc
Tyres
Front: 110/70 R17 Rear: 150/60 R17
UV F77 Mechanical Specifications
Looks and Design
The Ultraviolette F series features an aerostric jet inspired design. It is a premium electric bike in terms of price. Its V signature LED headlight and raised tank give the bike a sporty look. The design of the side covering the battery and chassis matches the design of the front and rear. At the rear, there is an LED tail light along with the number plate and LED side indicators at the front and rear. It is a medium height bike with long handlebar.
Elevate Your Ride
To make your experience better, the company provides many optional features like Aero wheel Disc, Crash Guards, Lever Guard, Panniers etc.
How to book Ultraviolette F77?
The booking for Ultraviolette F77 starts from 23 October 2022. It can be prebooked from its official website by paying a token amount of 10000.
Dose Ultraviolette F77 have gears?
No, the Ultraviolette F77 does not have gears. It can be accelerated with a simple twist of the throttle.
Does the F77 need a license?
Yes the F77 requires a license to operate! No license is required to drive an electric vehicle with a maximum power less than 250W or a maximum speed of 25 kmph. But the Ultraviolette F77 is a powerful electric bike, capable of generating a maximum power of 31kW.
How does the battery react to extreme temperatures?
The F77 has been tested in some of the harshest environments. Its battery pack is designed to operate in temperatures ranging from 0°C to 55°C, its Smart Battery Management System is programmed to protect the battery pack under all conditions.
What happens if I don't use the my F77 for an extended period of time?
The easiest way to conserve the F77 battery is to leave your vehicle plugged in for charging when you will not be using the vehicle for long periods.
In the event of a crash, what would be the impact on the F77 motorcycle?
Prioritizes rider safety through multiple levels of ultraviolet protection. The motorcycle and battery come with several breakthrough-safe mechanisms, such as after a crash the vehicle will shut down to protect itself from any abnormal functionality and send an SOS to the emergency contact.
Does the F77 need a number plate?
Yes the F77 requires a number plate! Number plate is not required for electric vehicle with maximum power less than 250W or maximum speed of 25 kmph.
Note: Actual range for your vehicle will vary depending on configuration, age and condition of the battery, driving style and operation, environmental and climatic conditions. Range estimation on vehicle display
Remaining battery energy, IDC-rated consumption, will be based on your personal driving patterns and outdoor conditions. The range displayed on the screen may decrease faster than the actual distance
Driven.