Ultraviolette F77 Launch Date in India
Ultraviolette Automotive, an electric motorcycle manufacturer backed by TVS has announced the launch of its much-awaited electric bike, the Ultraviolette F77. This electric bike will be released on 24 November 2022, but you can book it online from 23 October by paying an initial amount of Rs 10,000.
The Ultraviolette F77 electric bike was shown in its pre-production version at an event in 2019. A removable battery was programmed into the prototype but a non removable battery is packed into the new F77. As a result, the company used 18,650 cells in the prototype and 21,700 lithium-ion cells in the new F77.
| General | |
| --- | --- |
| Company | Ultraviolette |
| Fuel Type | Electric |
| IDC Certified Range | 307 |
| Motor Power | 30.2 Kw |
| Max Torque | 100Nm |
| Fast Charging Support | Yes |
| Infotainment | 5 Inch Touchscreen |
| 0-40 Kmph Acceleration | 2.9sec |
| 0-100 Kmph Acceleration | 7.8sec |
| Rear Disk Break | Yes |
| ABS | Yes |
| Front Disk Break | Yes |
Ultraviolette F77 electric bike specifications
Ultraviolette says that the decision to go for a fixed battery pack has been taken keeping in mind the longer range. The F77 will be manufactured at the brand's new manufacturing and assembling factory in Electronic City Bangor.
This company is spread over 70,000 square feet. And the company will manufacture 15000 electric motorcycles in the first year. But the company is capable of manufacturing 1,20,000 units every year.
F77 Electric Motorcycle comes with modern style. On whose front Single Pod Headlight and fiber cover has been given above front forks. There is a large fairing and split seat covering the battery.
Ultraviolette F77 Electric Bike Battery and Power
The Ultraviolette F77 electric bike draws power from a 10.3 kWh lithium-ion battery. Which is much bigger than any two wheeler battery pack available in India. In which 30.2 kW powerful permanent magnet AC motor has been installed. As claimed by the company, this air-cooled electric motor can generate maximum power of 40.5 hp and torque of 100Nm, against which the speed of 2250 RPM will be achieved.
Ultraviolette F77 Electric Bike Top Speed
If we talk about the top speed of the Ultraviolette F77 electric bike, then it can achieve a top speed of 152 kmph. At the same time, the speed of 0-60 kmph can be touched in just 2.9 seconds and the speed of 0-100 kmph can be touched in 7.8 seconds.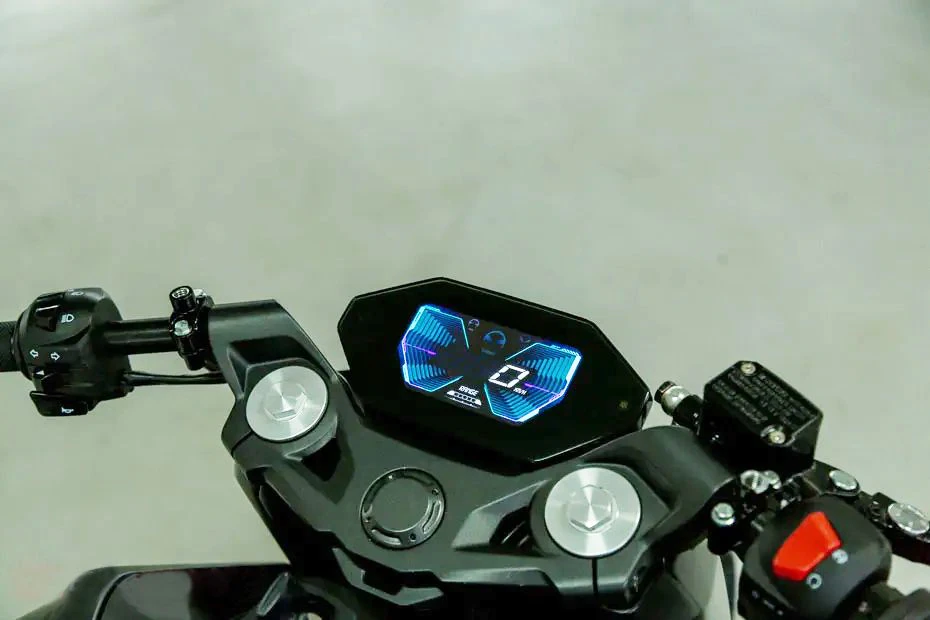 Ultraviolette F77 Electric Bike Mileage
According to Indian Driving Cycle (IDC), the Ultraviolette F77 electric bike gives a mileage of 307 kmpc. This is much more than the prototype offering a range of 150 km. Not only this, the company says that it will continue to work on improving the range. To incorporate the new battery pack, the Ultraviolette F77 electric bike underwent a number of significant changes.
For braking, the Ultraviolette company has given 320mm front disc and 230mm rear disc brake with dual channel ABS. Suspension system includes USD front forks and pre-load adjustable mono shock unit.
Ultraviolette F77 Electric Bike Price
** Thanks **
अन्य लेख पढ़ें:
200 Km range और कीमत सिर्फ इतनी Oben rorr Bike
इतने कम कीमत में इतना ज्यादा रेंज, Battre Storie,
Ather 450x and 450 plus Gen 3 All Specification
इलेक्ट्रिक व्हीकल अपनाने में कौन देश सबसे आगे है।
10 मिनट में चार्ज करे अपनी EV, जंगल, पहाड़ कही भी | Hopcharge
Tata Avinya का ये डिज़ाइन देख कर आपके होश उड़ जाएंगे, ऐसा कारनामा टाटा ही कर सकती है।
800 Km के साथ मार्किट में धूम मचाने आ रही है ये EV Car