Electric vehicles have undoubtedly revolutionized the way we think about driving. With each passing year, they're becoming more powerful, more efficient, and more exciting. In a thrilling update from the automotive world, Volkswagen has unveiled the enhanced 2024 versions of their popular ID.4 and ID.5 electric SUVs, specifically tailored for the European market. Buckle up, because we're diving deep into the exciting changes and upgrades that these sleek electric rides bring to the table.
Increased Range and Power
The buzz around the 2024 VW ID.4 and ID.5 isn't just hype—it's backed up by some impressive upgrades. Imagine going up to 556 km (345 miles) on a single charge! That's a significant leap from the previous models, making your electric journey longer and more enjoyable. Plus, with an 80 horsepower (60 kW) boost, these vehicles are not just eco-friendly but thrillingly dynamic too.
The Heart of the Upgrade: 77 kWh Battery
What powers this extended range? It's the impressive 77 kWh battery pack. This marvel of engineering ensures that your VW ID.4 or ID.5 is not just a car; it's a powerhouse on wheels. With this larger battery, charging your vehicle is faster and more efficient, adding convenience to your eco-conscious lifestyle.
Efficient and Powerful: Rear-Mounted Electric Motor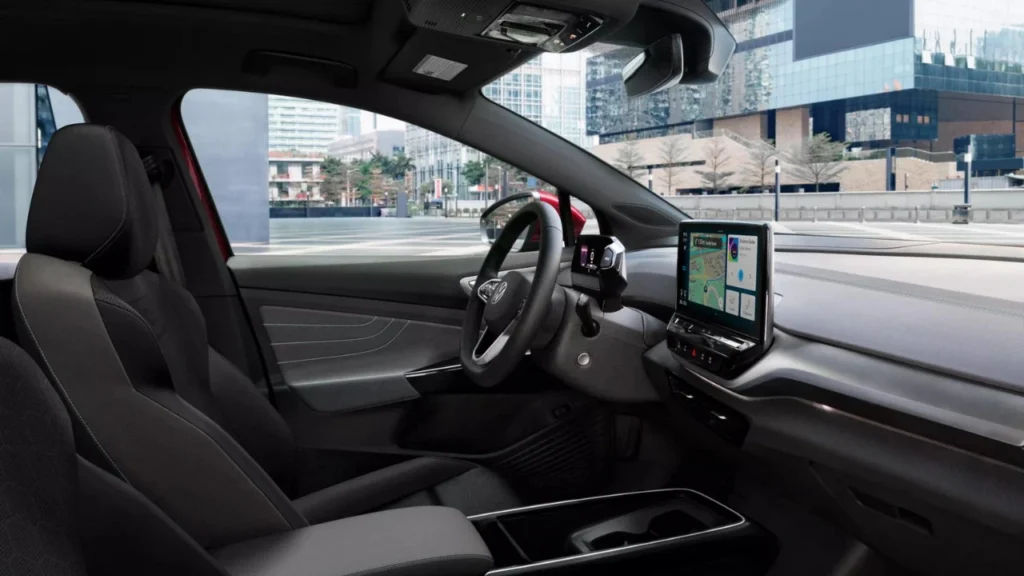 The beating heart of these new VW electric SUVs is their rear-mounted electric motor. It's not just more efficient; it's also more powerful, generating a whopping 282 horsepower (210 kW). This power boost isn't just a number; it translates into thrilling acceleration and a drive that's as smooth as it is exciting.
Speed and Control: Enhanced Driving Experience
Ever wished your electric vehicle could be as speedy as it is sustainable? The 2024 ID.4 and ID.5 models now reach a top speed of 180 km/h (112 mph), up from the previous 160 km/h (99 mph). And that's not all—thanks to the fine-tuned adaptive chassis control, you have more control over your driving experience. Whether you crave comfort or thrive on dynamics, these vehicles adapt to your every whim.
The All-New Infotainment System
Picture this: a 12.9-inch touchscreen, illuminated touch sliders, and a menu structure so intuitive it feels like second nature. That's what the new infotainment system in the VW ID.4 and ID.5 offers. It's not just a car; it's your tech-savvy co-pilot, ensuring your journey is not just efficient but entertaining too.
Pricing and Availability
Excited to make these electric wonders your own? The best part is, despite these incredible upgrades, the prices remain stable, starting from €40,335 ($42,786) in Germany. It's an investment not just in a vehicle, but in a greener, more exhilarating future of driving.
Audi Q4 e-tron and Skoda Enyaq vRS: The Close Cousins
But wait, there's more! The improvements we've raved about in the ID.4 and ID.5 are not exclusive to them. Their close relatives, the Audi Q4 e-tron and Skoda Enyaq vRS, have also received similar upgrades. It's a family affair of cutting-edge technology and eco-conscious driving.
Conclusion: Embrace the Future of Driving
In the world of electric vehicles, the 2024 VW ID.4 and ID.5 stand as a testament to progress. They are not just cars; they are the future of driving. With enhanced power, extended range, and cutting-edge technology, these vehicles are redefining what it means to drive green. So, why wait? Take the wheel and embrace the future today. Happy driving!
Image Gallery
---
Electric Car with Max Range
Q1: How long does it take to charge the 77 kWh battery fully?
A1: With a charging rate of 175 kW, these vehicles can charge from 0 to 80% in just about 30 minutes, making those long road trips more feasible than ever before.
Q2: Is the new infotainment system compatible with smartphones?
A2: Absolutely! The new system offers seamless integration with both Android and Apple devices, ensuring you stay connected no matter which side of the smartphone divide you're on.
Q3: Are these upgrades available for other markets outside Europe?
A3: As of now, these upgrades are specifically tailored for the European market. However, given the rapid advancements in electric vehicle technology, it's safe to assume similar upgrades might find their way to other regions soon.
Q4: How do these new models contribute to a greener environment?
A4: With extended ranges and faster charging, these vehicles encourage more people to make the switch to electric, reducing our collective carbon footprint and paving the way for a cleaner, greener planet.
Q5: Can I test drive these models before making a decision?
A5: Absolutely! Volkswagen dealerships across Europe offer test drives, allowing you to experience the thrill of these new models firsthand. It's the best way to truly understand the power and efficiency these vehicles offer.