Honda has always been at the forefront of automotive innovation, and their latest announcement is the Honda SC e Concept electric scooter. setting the stage for a new era of electric scooters. With the world debut scheduled at the Japan Mobility Show, anticipation is running high. But what do we know about this intriguing concept so far?
The Honda SC e Concept Debut
During EICMA 2023, Honda announced that the SC E concept electric scooter, previously unveiled in Japan last month, will be moving into production, and and this electric scooter could potentially hit the market as early as 2024. The 'SC' in its name indicates that it is a scooter, and Honda intends to commence mass production of the SC e: by 2025.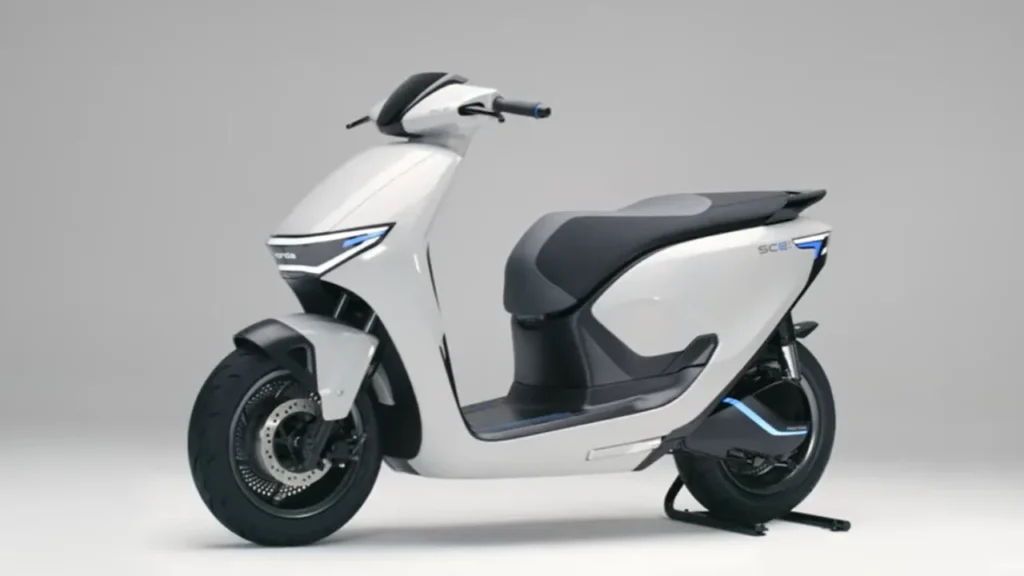 Is This the Electric Activa?
Electric scooters are taking the world by storm, and Honda is not one to be left behind. The Japanese automotive giant is gearing up to introduce its latest creation, the Honda SC e Concept electric scooter. This futuristic e-scooter is generating quite a buzz, and for good reason. It promises to redefine the way we look at electric scooters, and it might just be the precursor to the much-anticipated Electric Activa.
A Sporty Vision: Design and Styling
One look at the Honda SC e Concept electric scooter, and it's clear that Honda is aiming for a sportier image. The sharp lines, the large headlamp with integrated turn indicators, and the impressive 14-inch wheels give it a striking presence on the road. The premium wheel design and well-designed seat are sure to catch the eye of enthusiasts. It's a departure from the typical Activa styling, but is that a good thing?
Swappable Batteries Technology
One of the standout features of the SC e Concept is its use of swappable battery technology. This innovation holds the potential to revolutionize electric mobility. Imagine being able to swap out your scooter's battery as easily as you charge your smartphone. We delve into the advantages and implications of this game-changing technology.
The Advantages of Swappable Batteries
Swappable batteries, also known as interchangeable or replaceable batteries. it provides convenience, allowing users to quickly replace depleted batteries with fully charged ones, eliminating the need for lengthy charging times. This feature promotes continuous device usage, especially in electric vehicles, reducing downtime significantly. Additionally, swappable batteries can extend the lifespan of devices since users can replace aging batteries without replacing the entire device. Furthermore, this approach is environmentally friendly as it promotes recycling and reduces electronic waste. Overall, swappable batteries enhance user experience, save time, and contribute to sustainability efforts.
Battery Capacity
The Honda SC E concept electric scooter bears a striking resemblance to Europe's popular EM 1e e-scooter, though it stands out with its larger size and robust design featuring advanced features. Notably, the SC E Concept is equipped with two removable battery packs, each boasting a capacity of approximately 1.3kWh. When combined, these batteries offer an impressive total capacity of around 2.6kWh.
Range and Top Speed
Honda has not yet released specific details about the motor's power, specifications, or range for their upcoming SC E electric scooter. However, industry expectations suggest it could achieve a real-world range of about 100 kilometers with the two battery packs. Additionally, due to its more powerful motor in comparison to the EM:1 model, the scooter is anticipated to reach a peak speed ranging from 60 to 70 km/h.
Production and International Availability
While Honda has not disclosed precise production plans, industry rumors indicate that the SC E electric scooter concept might potentially enter the market as early as 2024. Enthusiasts and experts are eagerly awaiting the official announcement from Honda, with speculation circulating that this innovative concept could become a reality sooner than anticipated."
Could the Electric Activa Be Next?
Honda India has hinted at the development of the Electric Activa, and the SC e Concept might play a pivotal role. But how does this concept align with the Activa's legacy? We explore whether Honda SC E concept electric scooter could be the blueprint for the electric version of India's favorite scooter.
While the SC e Concept's styling is undeniably attractive, it might be a bit too radical for traditional Activa consumers. We discuss the design choices and whether they cater to the Activa's loyal customer base.
---
---
Popular Electric Scooter
Popular Electric Bike
New Technology
Q1. What is the release date of the Honda SC e Concept?
Ans: The exact release date of the SC e Concept has not been disclosed yet. However, it is set to make its world debut at the Japan Mobility Show, so we can expect more details soon.
Q2. Will the Electric Activa be affordable?
Ans: Honda has not revealed pricing details for the Electric Activa. Affordability will depend on various factors, including battery technology and government incentives.
Q3. How far can the Honda SC e Concept travel on a single charge?
Ans: Detailed range information for the SC e Concept is not available at the moment. However, the expected Range is approximately 100 km.
Q4. Is swappable battery technology the future of electric vehicles?
Ans: Swappable battery technology holds great promise for electric vehicles as it can significantly reduce charging time and enhance convenience. However, its widespread adoption will depend on infrastructure development.
Q5. What sets Honda apart from other electric scooter manufacturers?
Ans: Honda's legacy of quality and innovation sets it apart from the competition. Their commitment to sustainability and cutting-edge technology positions them as a key player in the electric scooter market.
** Thanks **
Read More:
Fastest Electric Cars in the World
Fastest Electric Bike In India
Toyota Batteries with 1000km Range
Volvo To End Diesel Car Production By 2024
Electric Kawasaki Ninja and Z Bikes Launch